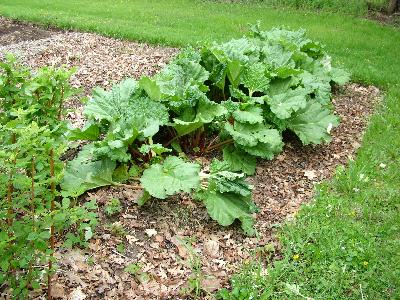 I like rhubarb crisps best at the beginning of the season. The stalks are succulent and juicy after all the spring rains. I realize there are a multitude of very good rhubarb recipes from pies to cobblers. (And we've tried a lot of them.) Following is a recipe I've developed over the years and our favorite way to enjoy the tangy stalks.
Rhubarb Crisp (10 inch pan )
6 cups chopped rhubarb
3/4 cup sugar
1/3 cup flour (unbleached or soft whole wheat)
Mix and let stand for 15 minutes.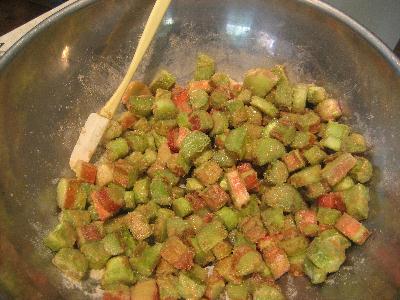 Topping
1 tsp. cinnamon
1/3 cup soft whole wheat flour
1 cups rolled oats
¼ cup butter, melted
½ cup brown sugar
½ cup walnuts, chopped
Place rhubarb mixture in shallow greased baking dish. Combine dry ingredients; add melted butter, mixing until crumbly. Sprinkle over rhubarb. Bake at 375 degrees for 30 minutes.
May substitute part of rhubarb for some strawberries or raspberries.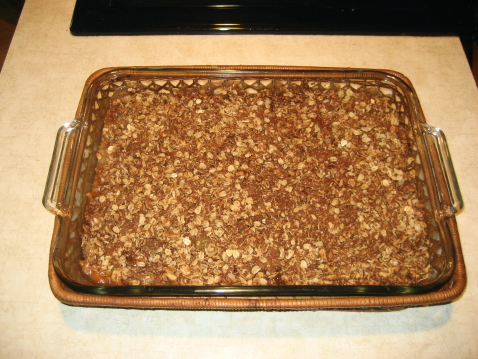 Comments (4)
|
Send
| | 288 Views
Comments (Comment Moderation is enabled. Your comment will not appear until approved.)
I love rhubarb crisp. I also make rhubarb-ginger jam (just add ginger to any jam recipe) and Shaker rhubarb tea.
I think of rhubarb as the quintessential New England fruit. It's free, good for you and unusually tart.
#
Posted By Duckladynh | 5/26/09 7:57 AM
I love putting fresh chopped ginger in my rhubarb sauce too. I'm not familiar with Shaker tea but years ago I used to make a strawberry-rhubarb slush with vodka that you kept in the freezer. When ready to serve just add sparkling water.
#
Posted By Judy | 5/26/09 8:15 AM
Shaker Cold Rhubarb Tea
4 C. rhubarb, diced (unpeeled)
4 C. water
Juice and grated rind of one lemon or orange
3/4 C. sugar
Simmer rhubarb in water until very tender, about 20-25 minutes. Strain. Add juice, rind and sugar. Stir until sugar has dissolved. Cool and serve over ice in tall clear glasses.
This is from Eldress Bertha Lindsay's cookbook 'Seasoned with Grace.' It's one of my favourites, good plain farm cooking with a great pic of Eldress Bertha on the cover. Visit
http://www.shakers.org/
to learn more about these special people and this serene and lovely place. There is also a small, still active community of Shakers at Sabbathday Lake in New Gloucester, Maine. Their site is
http://www.shaker.lib.me.us/
I hope it's okay to share these links here. Both organizations are agricultural and non-profit in nature.
#
Posted By Duckladynh | 5/28/09 7:44 AM
Thanks for the Shaker Tea recipe and the interesting links. I think I'll make some tea for the freezer. That way I can preserve the rhubarb and spread out my intake of oxalic acid!:)
#
Posted By Judy | 5/28/09 9:22 AM