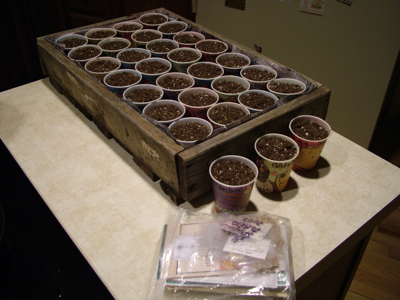 I started my tomato seeds today. A little late, but I think I'll be okay. My flats hold 28 five ounce Dixie cups almost perfectly. I usually start about 30 different tomatoes. So with one cup of tomatillo seeds pushing the cup count to 31, here is the result.
My potting soil is a blend of half Jiffy® mix and half an organic potting soil called Sunshine® that I picked up at Paradigm Gardens, a relatively new store here in Madison that specializes primarily in hydroponic and indoor growing but is branching out into outdoor gardening items (like CobraHead weeders).
I'll plant seven seeds per cup if the seed is relatively new. If it's older seed, I'll plant 10 to 15 to have a chance of something coming up. I don't have time to do sprouting tests. If the seed fails to germinate in the cup, I just toss out the remaining seed. I water the seeds with regular tap water until they sprout, then I'll feed them with various fish fertilizers and composts teas that I've accumulated from fellow vendors at garden shows.
We grow an interesting assortment. With one exception, everything is open pollinated. Here's the list of seeds and sources: Toma Verde Tomatillo – Fedco; Polish Linguisa – Tomato Growers Supply; Belle Star – Fedco; Amish Paste – our saved seed; Sun Sugar – Tomato Growers –(our only hybrid – it's like a Sungold); Camp Joy – Renee's Garden; Red Pear – our seed; Yellow Pear – our seed; Peach – our seed: Chadwick – Seeds of Change; Green Zebra – our seed; Persimmon – Tomato Growers Supply; An unknown persimmon-like tomato – our seed; Paul Robson – Tomato Growers Supply; Mexico – Tomato Growers supply; Cherokee Purple – our seed; Nyagous – Seed Savers Exchange; Cosmonaut Volkov – Fedco; Wayahead – Jung Seeds; Millionaire – Baker Creek; Great White – Baker Creek; Crimson Carmelo – Renee's Garden; Aunt Ruby's German Green – Fedco; Mammoth German Gold – Tomato Growers Supply; German gold – our seed (our favorite sandwich tomato); Hillbilly Potato Leaf – Seeds Saver Exchange; Unknown big red pointed tomato – our seed; Large Pink Brandywine – our seed.
And outside the box, three other Brandywine types, all our seed that we refer to as Big Red Brandywine, Small Red Brandywine and just Brandywine.
After the seeds are sprouted and they get some growth behind them, I'll pot off about four of each variety. Typically, I'll plant the two best of each in the garden. I usually plant 60 tomato plants.