I took advantage of a dry day between the rains to get my garlic planted.  I've been using a method Geoff taught me years ago that works particularity well with raised beds.  I've posted the method several times before, but it's worth repeating as it works so well.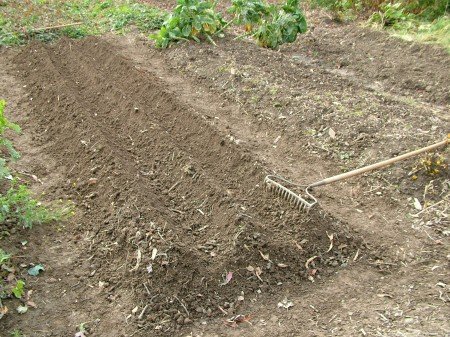 I form a loose worked-up bed into three ridges (or two troughs) using a steel rake.  This year, before I planted the garlic cloves, I liberally dusted the entire bed with cilantro and anise hyssop seeds that I had saved.  I'm hoping to have an early harvest of cilantro and if the hyssop takes off, I'll move some of it to other areas of the garden to use as an herb and as a pollinating insect attractor.  I really like anise hyssop, but I never seem to have enough of it, so I'm hoping this will work.
I'll also seed and transplant spinach, lettuce and other greens into the bed in the spring, after I pull away the straw from the sprouted garlic.  Interplanting the garlic with greens pays off.  I get more production out of the bed and the greens seem to do well in the shade of the garlic flags.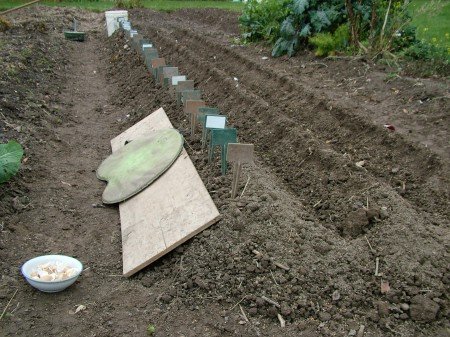 I kneel on a plywood board to keep my knees from damaging the soft edges of the bed.  The garlic is planted  into the top of the ridges.  I push the cloves into the soil until they are just covered.  To plant the garlic neatly, I set down one row of plant markers on six inch centers.  I eyeball the planting for the two rows across from the markers, and the last row is planted alongside each marker.  A yardstick would work just as well, but this is an easy approach to getting the spacing just right.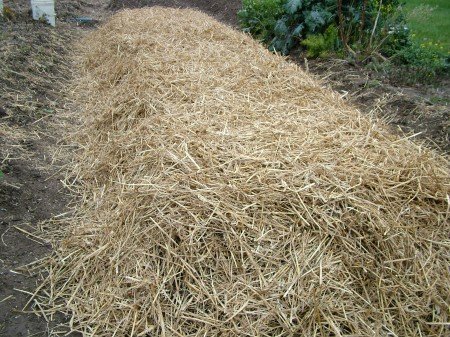 I covered the bed with two small square bales of straw, using the small CobraHead tool to rip apart the sheaves and to fluff up the straw, thus making it as insulating as possible.  I then raked up and tamped down the straw with a small adjustable aluminum rake so the straw wouldn't blow away in the gusty winds.  We're looking forward to another good garlic harvest next July.
If you haven't planted garlic yet, it's not too late. You can also plant early in the spring, but your yield will not be as good in terms of bulb size.
Tags: garlic, planting boards, planting garlic, raised beds