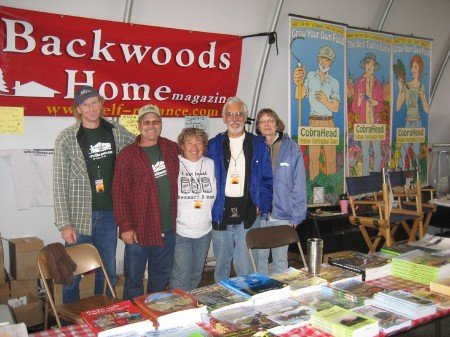 Last weekend Anneliese, Judy and I exhibited at the 2011 MREA Energy Fair.  I've posted about this show in previous years because it is one of our favorites.  MREA attracts an audience that is far more in tune with the issues of sustainability than the general population, and many of the attendees are home gardeners.  In other words, it's a friendly audience that will buy our tools.
Trade shows where we can sell product can be great for us because we have an opportunity to recoup some or all of the costs of doing the show.  Using trade shows as a marketing tool has helped us immensely.  We know that when we sell tools to a consumer at the show, that buyer has an excellent chance of really liking the tools and letting their friends and relatives know about them and about CobraHead.  We find that when we do shows for the second, third, and fourth time, happy customers will find us to tell us they like our products, and often will buy more tools for gifts.
The other great thing about trade shows is the people you meet who are also exhibiting at the show.  The network opportunities for a little company like ours are tremendous.  We find people who want to sell our tools and become wholesale buyers.  Other exhibitors often have contacts that help us either in finding new customers, or they may solve marketing problems for us because they've  already come up with a solution for an issue that can work for us.
Our next door neighbor at MREA this year was Backwoods Home Magazine.  While the magazine editors and publishers, who work out of Oregon did not attend the show, they were represented by one of their main writers, Jackie Clay, who lives in northern Minnesota.  As happens at these events, you talk to your neighbors a lot and I found out that Jackie not only grew up in Warren, Michigan, my boyhood home, but she attended the same high school I did and graduated in my younger brother's class just two years after I did.  Small world.
Jackie is very well known as a writer on self-reliant living. She has written numerous articles for magazines such as Mother Earth News, Countryside Magazine, and other magazines that promote living a self-sufficient lifestyle.  She is now writing mostly for Backwoods Home.  Jackie is also a prolific book author with quite a few books published on homesteading and self-reliance, and we found out that she is also a novelist with several westerns waiting in the wings, ready to be published.
Here's a link to a typical very useful article that Jackie recently posted for Backwoods Home.  It's about seed saving and it gives non-technical, easy-to-read instructions advising the home gardener how to both save money and add to their food security by saving seeds.
Jackie, her new husband, Will, and their friend Tom Richardson were wonderful neighbors and we are happy to have had the chance to meet them.  We're already looking forward to next year's MREA so we can resume our friendship.
Tags: MREA, trade show