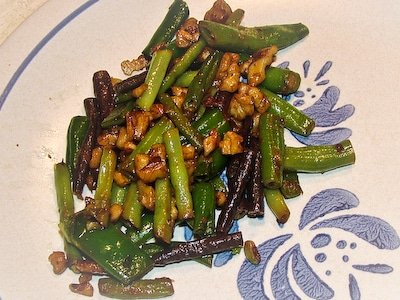 On Geoff's last visit to Wisconsin he prepared some of the family meals. After raiding the freezer for some homegrown veggies he came up with this tasty side dish – tamari flavored 'walnutty' green beans. It was his version of green beans amandine, replacing the almonds with walnuts and the salt with tamari soy sauce. I'm a big walnut fan so this dish went to the top of the list for me.
2 T. olive oil
¼ cup chopped walnuts
2 cups frozen green beans, thawed (or blanch some fresh beans before tossing in the pan)
2-3 tsp. Tamari (double this if adding pasta)
Preheat cast iron frying pan on medium low, sauté walnuts in the olive oil for 2-3 minutes until toasty but not overly browned. Toss in the green beans and tamari and cook until beans are done to your liking. Add a little water if necessary. Delicious!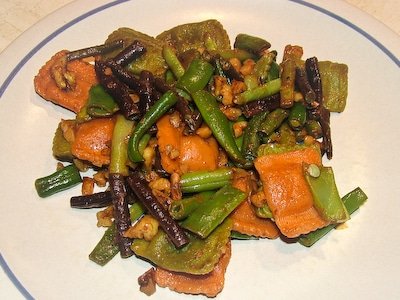 Here's where I 'value added' the dish. The second time I made it I wanted something a little more substantial. I happened to have a package of fresh Tri-Color Four Cheese Raviolini from RP's Pasta Company in the fridge. RP's is a local Madison, WI company but I see that according to their website they sell in various states throughout the Midwest and beyond. I cooked the pasta, drained it and tossed it with the finished beans. Talk about a quick meal – faster, cheaper and healthier than going for a carry-out!
Tags: green beans, recipes, walnuts