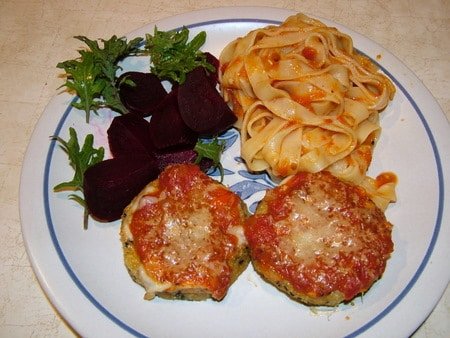 Our eggplant harvest was prolific this year.  The extremely hot summer we had in Wisconsin probably had something to do with that!  Eggplant is a great addition to pasta sauces and veggie sautés' but our all-time favorite is eggplant parmesan.
The original recipe came from the The Vegetarian Epicure by Anna Thomas.  Over the course of many years our recipe has changed a little but the basic concept is the same.  Sauté breaded eggplant slices and place in a baking dish, layer on cheese and pasta sauce, top with parmesan and bake at 400 degrees for 15 minutes.  This dish could easily be made into a vegan dish with a couple of minor changes.
1 medium eggplant, sliced into 1/2" thick rounds (we peel the skins)
Flour – unbleached or soft whole wheat with added salt and pepper
1 egg beaten with milk  (Vegans:  1 cup soy milk beaten with 1 T. Dijon mustard)
1 cup cornmeal mixed with 2 T. sesame seeds, salt & pepper & flour leftover from tossing
Note:  Leftover breading mix can be frozen for use on the next batch.
Olive or canola oil
½ lb. swiss, mozzarella or farmer cheese, sliced, or your own favorite dairy or vegan cheese
Pasta sauce – your homemade sauce is best
1 cup freshly grated parmesan, asiago, or vegan substitute
Toss prepared eggplant with flour mix in a brown paper bag, dip in egg or soy milk mixture, and then dip in cornmeal mix (may use breadcrumbs or mix of your own choosing).  Sauté in hot oil for about 2 minutes on each side or until browned.  Put in baking dish, lay sliced cheese on top, add 2-3 T. sauce and sprinkle with the freshly grated parmesan.  Bake at 400 degrees for 15 minutes.
We usually serve our 'little pizzas' with linguine and extra sauce.  Soba noodles work nicely too.
FYI – I did try baking the breaded eggplant (using bread crumbs) on parchment paper in lieu of frying.  I haven't totally perfected that method to my liking yet but we ate the results with salsa as an appetizer.  That's called 'not enough time' for the complete meal!
Tags: eggplant, eggplant parmesan