Lest you think I jest, take a look at the purple pommes de terre next to the skinny leeks below:
The garden leeks aren't as fat as I would like yet but they are usable and the potatoes are definitely ready. It's time for leek and potato soup.
With all the hype about "Julie and Julia" by Julie Powell these days (I did read the book) I have to recall that my first attempt at this soup back in the 70's came from "Mastering the Art of French Cooking", Volume I, by Julia Child, Louisette Bertholle and Simone Beck. I later added Volume II to my collection along with numerous other diverse cookbooks over the years. I have to admit I did NOT make every recipe in the book(s).
After almost 40 years of playing in the kitchen, reading cookbooks and any food-related articles I could get my hands on my cooking and personal recipes have evolved.
Try this variation:
1 big bunch of leeks – white & light green parts chopped 1 onion chopped 4 – 6 cups potatoes chopped 1-2 T. olive oil or butter or combination 8 cups water, veggie broth or chicken broth Salt & pepper to taste
Sauté leeks & onion until soft and slightly browned. Add potatoes and broth and simmer about 45 minutes to let the flavors develop. Add salt & pepper to taste.
Here's what it looks like before the broth is added. Note these are purple fleshed potatoes which happen to be what Noel harvested.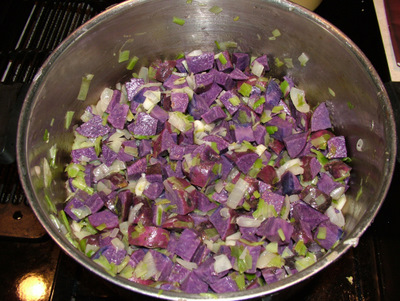 Sometimes we eat it as is. Sometimes we puree it and add milk or cream. Of course, Julia prefers that you use a food mill instead of a blender!