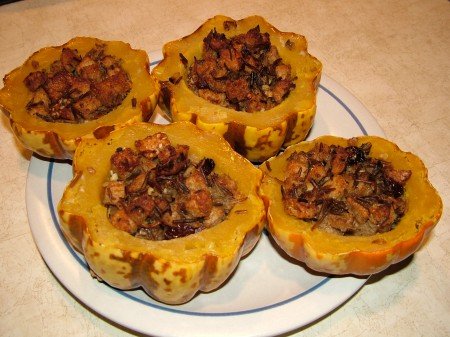 It's that time of year when the weather turns chilly and winter squash is on the menu.  Obviously it's right after the plentiful harvest but the body seems to need that filling substance to warm itself and feel satisfied after a hard day's work.
Since we don't cook a turkey, and would miss the stuffing dearly, we especially like to stuff some winter squash and have a little gravy to top it off.  Here's a recipe we use that reminds me of what my mother used to put in the turkey.  The herbs used always remind me of Simon & Garfunkel's Scarborough Fair song with the line "Parsley, sage, rosemary and thyme"….
Wild Rice and Bread Stuffed Winter Squash
2 sweet dumpling or acorn squash, halved & seeded
2 T. olive oil
1 clove garlic, minced
1 small leek, finely chopped (or ½ cup minced onion)
¼ c. finely chopped mushrooms (I used fresh shiitakes)
1 ½ c. cooked wild rice (1/2 c. dry)
2-3 c. whole grain bread, cubed
½ c. veggie broth or water flavored with Tamari
2 T. parsley, minced
1 t. sage
½ t. rosemary
½ t. thyme
Preheat oven to 400 degrees, then reduce heat to 350 degrees when you put the squash in to bake.
Sauté garlic, leeks and mushrooms in the olive oil on medium low for about 5-10 minutes until softened.  Turn off the heat and stir in the cooked wild rice and bread cubes.  Sprinkle on the broth & spices and toss lightly so as not to mush up the bread.  If the bread is really dry you may need to add more liquid.  Divide the filling among the 4 squash halves.  Bake for 1 hour in a covered roasting pan at 350 degrees or until squash is done.  Serve with gravy.  See my previous gravy post here.    We have even made a huge bowl of dressing and stuffed a hubbard squash.  You'll just have to bake it longer.  Enjoy!