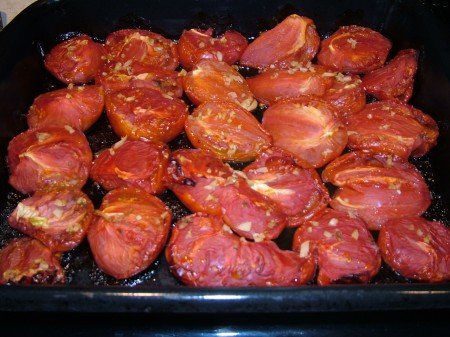 Are you tired of tomatoes yet?  Not here!  It seems like the more I remove from the kitchen counters to cook down or preserve, the more that magically appear in their place.
This year the first few batches of sauce were made in my usual way – boil the tomatoes for 30 seconds, skin and cut them up and simmer on the stove top for a few hours until thick enough for spaghetti sauce.  Cool down and put in freezer containers.
Then a few days ago I was reading a recipe for roasted tomato soup – probably from Epicurious.com but there are several of these soup recipes floating around out there.  Each has their own personality.
I wasn't really interested in the soup as much as the garlicky roasting of the tomatoes.  So time for experimenting – I cut my rather large tomatoes (Oxheart, Brandywine, & Pomo d'Oro) in half and sometimes quarters and placed skin-side down on a roasting/broiler pan and placed in a 350 degree oven for an hour.  I somehow forgot all about the olive oil & garlic when I first started but decided to let it go.  After an hour I decided that the tomatoes could use more roasting so that's when I splashed on 2-3 T. olive oil, several cloves of chopped garlic and 1/2 tsp. salt and put them back in the oven for another hour.  Two hours was just about right for my oven but since ovens vary you'll need to check on them until they're done to your liking.  The longer you roast them the more they will caramelize so it all depends on your taste.  The tomatoes did start to brown more when I 'forgot' about them until 2 ½ hours had passed.  Oops!
After the tomatoes cooled I removed the skins although they had almost disintegrated but not quite.  I tasted them more than I should have and reluctantly got them freezer-ready for a wonderful sauce to be enjoyed mid-winter.   These tomatoes stand on their own as a side dish but of course you can use them in soup, lasagna, chili, pizza and casseroles to name a few.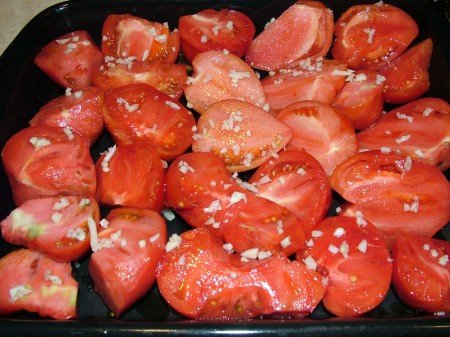 –          Broiler pan filled with fresh tomatoes, halved or quartered depending on size
–          2-3 T. Extra Virgin Olive Oil
–          4-5 cloves chopped garlic
–          ¼ – ½ tsp. salt
Place tomatoes on greased pan, splash with olive oil, sprinkle on garlic and salt.  Roast in a 350 degree oven for 2 hours.