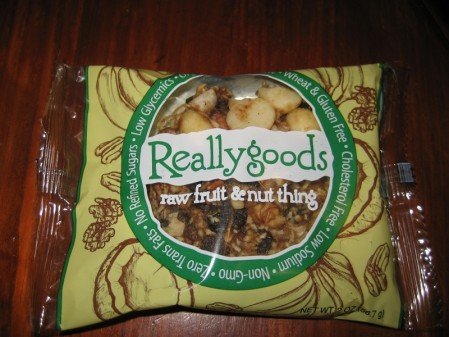 It's not often that I feel the need to shout to the world how great a product is, but I've wanted to do just that about Reallygoods for quite some time. I first encountered Reallygoods about a year and a half ago when Noel and I were on a road trip through central Wisconsin. Our longtime family friends, Chris and Steve McDiarmid, were the proprietors of a food and wine shop in the village of Coloma, and we decided we should take a quick break from our travels to stop in and say hello.
During our visit, I noticed a small stack of interesting looking nut bars loaded with coconut, macadamia nuts, raisins, and more. I decided I needed to grab a few for road snacks. Chris then told me how they had been making their raw "things" for family members for quite a while, and they were so popular that they started selling them in their shop. Noel and I grabbed a couple for ourselves, and we made sure we had an extra one to take back home to Judy.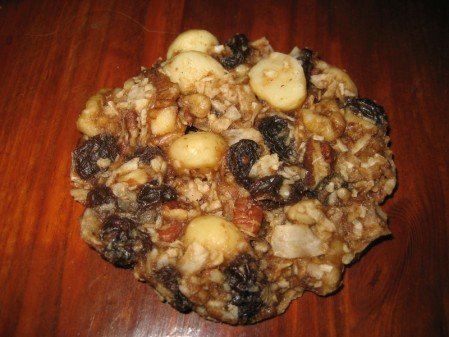 Some miles down the road I took the wrapper off my "fruit and nut thing" and took a few bites. It was not what I expected. I mean, I expected to like it, but I certainly didn't expect to LOVE it. I've had plenty of other raw fruit and nut bars before, and they're usually… well, they're usually just OK. Other raw fruit bars are often dense, chewy, and healthy-tasting – a decent snack to be sure, but not necessarily habit-forming. This was delicious and sweet but not overly so. It had a satisfying crunch, but there was still the right amount of chewiness. It was almost like a cookie. After a few more mouthfuls I turned to my dad and said, "Wow. This is really good!"
Through an amazing assertion of willpower on my part, the final "thing" managed to make it home to Judy. Surprising absolutely no one, she loved it, too.
We knew we wouldn't make the hour and a half trip to Coloma very often, so we started ordering our snack things by the case. Last year, Judy ordered enough to make sure everyone in our extended family had a tasty stocking stuffer for the holidays.
Meanwhile, Chris and Steve knew they were onto something. They decided to shutter the doors to their wine shop and make a go of producing and selling Reallygoods, as they had come to be known. During that process, we were honored to be product testers while Chris and Steve perfected their recipe. Samples were sent to us with each new tweak. It was a rough gig.
Now, finally, Reallygoods are ready for market, and I can't wait to see them on grocery store shelves everywhere. While we wait for that to happen, you can always order them online from the Reallygoods website. There's even a monthly subscription plan for addicts like me.