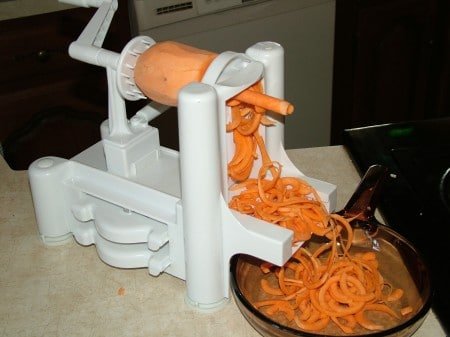 Last September Noel & Anneliese were vendors at the Mother Earth News Fair in Seven Springs, PA.  The booth next to them was "Wild Success" promoting their raw foods and kitchen equipment.  When Noel called to ask me if I needed anything I said, "not really but if you see something really cool you can surprise me."
Well 'my surprise' was a Spirooli or an Italian designed 'turning slicer' or 'taglialegumi' if you will.  I think it was Anneliese that decided I should have this.  She got herself a seed sprouter.  I never would have guessed that I 'needed' one but it has been fun.
I'm sure it will get more use next summer when the zucchini are in full force and we try zucchini noodles.  In the meantime, as you can see from the pictures, we've been using it on potatoes, white and sweet.  We made noodles with one white potato and one sweet potato, but if you score or cut the veggie halfway through lengthwise it makes broken circles instead of noodles.
The potatoes were tossed with olive oil, seasoned salt, smoked paprika & cumin, and baked at 375 degrees for 30 minutes, turning halfway through.  They weren't particularly crispy but were delicious anyway.  Experiment with the temperature when you try it.  The sweet potatoes tend to caramelize and blacken easily so don't raise the temperature too high.