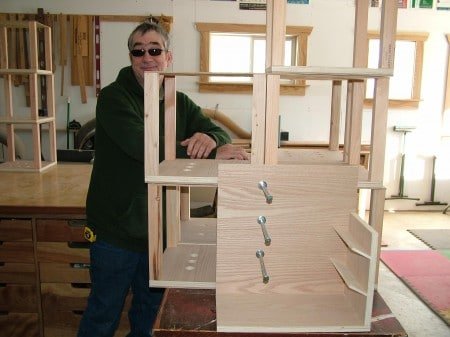 As our little business grows we've had to develop selling aids so the stores who sell our products can display them prominently.   Hopefully the displays get noticed and entice people to buy.  They are referred to as POP's – Point of Purchase Displays.  For the past several years I've been making them for both our short and long handled tools in  my garage.  The displays are okay looking and easy for me to produce cheaply in small quantities, but they are hardly works of art.
I knew last year that the demand for displays, always occurring early in the spring, was going to put us in a bind.  I wouldn't be able to produce a lot of displays in a very short time frame.  To get around the problem, we had been discussing contracting the work out to someone who could do it better and faster.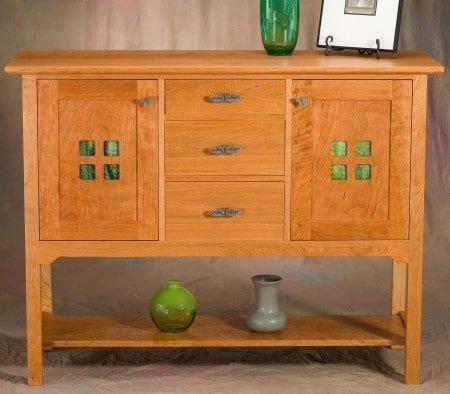 It's not what you know, but who, that helps you get through life, and I know Bill Bale.  Bill is a friend and a woodworking craftsman.  He designs and builds custom furniture and he's very good at it.  His work combines Arts and Crafts and Mission Style in extremely solid and functional yet beautiful pieces of art.  You can see some of his work at the Sandhill Designs website here.
A while ago Bill let me know that he had some slow time before he had to start cranking up for this year's art fair season and upcoming orders.  I asked if he would consider knocking out the displays I needed. Almost to my surprise, he said yes.  Because he could do them a lot faster than I could even dream about doing in my garage, he could do them at a price I could afford.
I took delivery last week of 50 displays for our small tools and a dozen displays for our long tools.  They are great.  Much nicer than the one's I've been doing.  My customers will be happy. I'm happy.  Bill is happy.  I've always told the family that as our business got bigger, we should try to farm out the overage of work as much as possible to people in our local community.  I hope this is step one of a lot more local outsourcing.