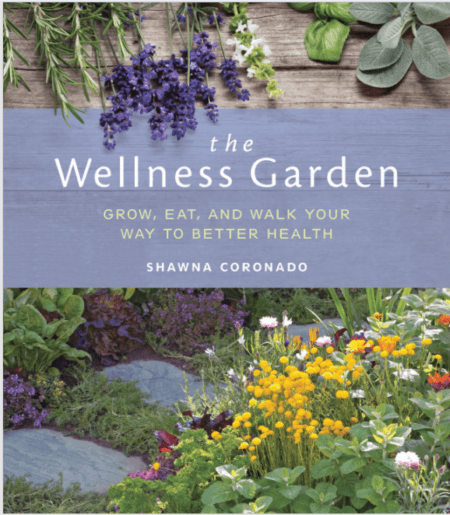 Gardening is excellent physical and spiritual activity. Most who garden, love it and need it, but what would you do if pain or restricted movement from a debilitating disease were forcing you to give up gardening and your garden? Shawna Coronado found herself in that situation when she was diagnosed with degenerative osteoarthritis. Shawna was already an established garden writer and well-known gardening spokesperson when she came close to giving up gardening with the onset of this painful and physically limiting disease. We became friends with Shawna years ago. She is a champion of urban gardening. When first she learned of her health problems she was sure her gardening carreer was over.
But Shawna did not give up her garden. She tells the story of how she significantly relieved her pain and restored useful movement without resorting to pain-killing drugs. Through a rehabilitation program that she developed through her own research and by consulting with health professionals, Shawna found natural ways to ease the pain and improve her physical strength so she could continue her work and her love for gardening. Along the way she learned how important good food is to good health.
But the The Wellness Garden is a lot more than just Shawna's journey back to active gardening and an active lifestyle. The book is an excellent tutorial on how to do physical work in non-stressing ways.  It's a beautiful journey through public and private gardens around the country, with gorgeous photographs often illustrating easy to care for garden techniques.  It is a primer for low-stress exercise that can keep all of us in the garden longer.  Gardens are therapeutic and Shawna shows how to make them accessible to those with pain or limited movement. And the book is a celebration of good food and the nurturing, healing, and restorative powers of the things we grow.
I truly enjoyed reading the The Wellness Garden and I highly recommend it to all gardeners and to all those who want to know more about food and wellness.
The Wellness Garden by Shawna Coronado.  $24.99 Cool Springs Press.  Available on Amazon.
Tags: Diet, Exercise, Pain, Shawna Coronado, The Wellness Garden, Wellness