It's May 23rd here near Madison, Wisconsin. This morning, I planted 17 sweet potato slips into a raised bed covered with a sheet of black polyethylene. Memorial Day weekend has always been my target planting date for sweet potatoes, and this year I'm right on time.
I used this black poly sheet last year. I've gotten three years from a single sheet, but usually after two seasons they get torn and brittle and have to be trashed. The white rings are cut from PVC plumbing pipe.  They help protect the transplanted slips from wind and abrasion and make it easy to water the small plants.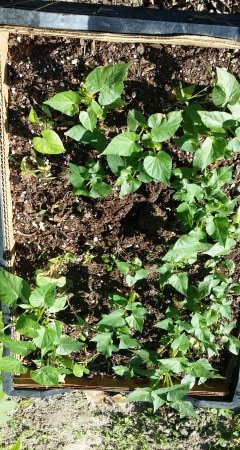 I started my slips from sprouts  on a stored two year old root.  Here's the flat with the first slip removed. Using a soft potting soil makes getting the roots out easy.  Growing your own starts is economical and the plants are usually more vigorous than purchased slips.
Using a dibble to make a big conical hole, I plant the slip, pack the soil, and then put the ring in place.
After the plants are all in I give them a good soak. The ring makes it easy to direct water exactly where it's needed.
We have numerous posts about starting and cultivating sweet potatoes as well as numerous recipes using this delicious and nutritious vegetable.  Here are a couple on starting your own plants:
Using Sweet Potato Sprouts for Starts
Extra Early Sweet Potato Starts
Tags: noel valdes, Planting sweet potatoes, sweet potatoes, using black plastic mulch for sweet potatoes