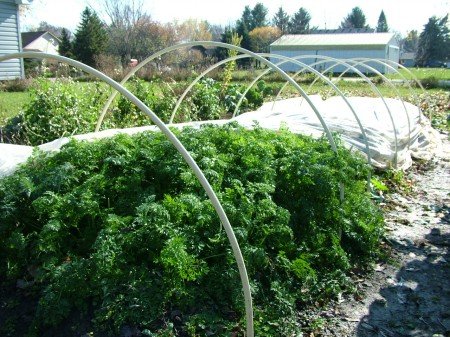 Carrots in Hoop Tunnel
I planted a bed of carrots and beets on August 12th.  Here are the carrots, eleven weeks later.  They're doing great and we're harvesting some fairly large ones, already.  The beets are doing just fine, too.   I'm hoping to keep the harvest going well past when the hard freezes set in by using a low hoop tunnel with two protective layers.
The outside frame of the tunnel is covered with clear poly sheeting.  Directly over the carrots and beets is a layer of agricultural fabric.   I saw a talk given by Elliot Coleman where he described how he uses similar systems to get carrots to grow through the winter in Maine.  All I want to do is get them to last into December.  We'll see how it goes, but I think I'll be happy with the results.  These hoop tunnels are easy to construct, and easy to set up, take down, and move around.  The basic instructions for setting up a hoop tunnel  are here.