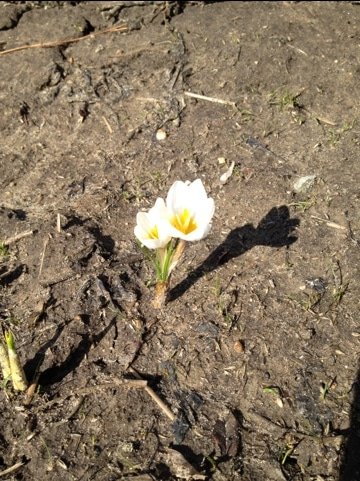 After two years in my house, I finally decided it was time to add to the garden collection. So last fall after road crews finished tearing up my street, I took advantage of the bare soil the road crews left by the curb and planted over 400 crocus bulbs. Pictured above is my first official bloom from something I planted myself. This particular variety is Crocus chrysanthus 'Ard Schenk' from Brent and Becky's Bulbs. And yes, I'm proud of myself for actually keeping track of what varieties I planted.
Not long afterwards, I had another variety pop up: Crocus ancyrensis 'Golden Bunch'.
I planted five varieties in total, but the other three haven't shown their little faces, yet. I expect to see them all soon, though.
Sorry for the picture quality — I took these with my phone! Actually, this entire post was composed and published via phone, so all things considered, I think it turned out okay.