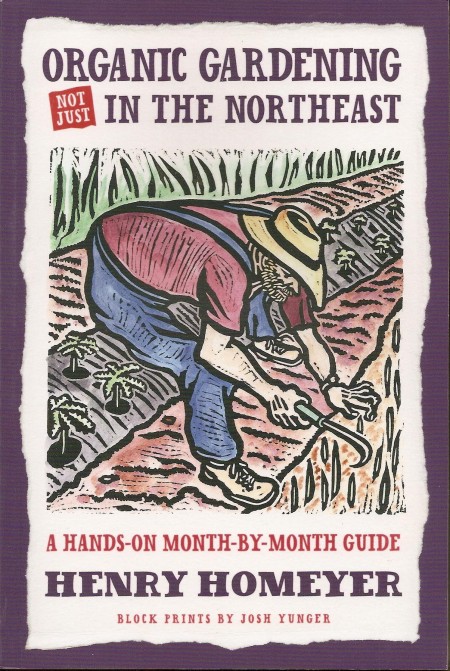 We knew little of what is referred to as "Lawn & Garden" in the worldwide marketplace before we started CobraHead.  But we soon learned that if you can make garden writers familiar and happy with your products, there is a chance they might mention them when they write, and possibly the Lawn & Garden industry might notice, too.  So we've promoted CobraHead products earnestly to garden writers and it's been a very smart move.
Henry Homeyer was an early CobraHead convert and he's been a long time champion for our tools.  Henry is a professional garden writer, Master Gardener, gardening magazine editor, radio broadcaster, and gardening teacher who lives and gardens in New Hampshire.  He writes a weekly gardening column for a long list of newspapers in New England, and he has an avid following.
Henry recently published another book and it's one I can recommend, highly.  We like it so much we now offer it on our website HERE.  The book is a collection of gardening articles Henry has written.  They've been edited and updated, and formatted into a month-by-month discussion of what gardeners should and could be doing throughout the gardening year.
The title, Organic Gardening NOT JUST in the Northeast, is important.  In Wisconsin we have real winters as do about two-thirds of the geographical US.  So what Henry writes about is good for most everywhere except the deep South and west of the Rockies, and it certainly applies to most of Canada, too.  Just remember that seed starting and planting dates can vary widely, even within your own state or province.
Henry approaches growing and caring for both ornamental plants and food plants with totally organic methods.  It's one of the things that I find so useful about the book.  I've met a lot of professional and amateur gardeners who seem to think organic is for the veggies, but it's okay to use chemical pesticides and herbicides on the flowers, lawn, and trees.  My thinking is it's all the same garden, why do I want to poison any of it.  I'm glad to find a really good gardener who thinks the same way.
A beginning gardener will find much useful information in this book.  It's easy to read and understand.  While it is a well indexed and useful reference, it's also a good read and enjoyable just to go through it, front-to-back.  Henry's an excellent story teller and the book can almost be read as a collection of short stories.  The solid advice dispensed is not just for new gardeners, however.  I found a recipe for a soil mix to use in soil blocks, which I never had good success with before, that will get me to try them again.  I'm sure even professional gardeners can find lot of good information here.
Henry starts the book with March, so the last chapter is February, which is where we are now.  Here are a couple interesting comments Henry has about Groundhog Day and what is the last "full" month of winter:  "I think we should take time out to recognize that February 2nd is halfway though winter.  The worst is over.  That's worthy of celebration".  And, "It's still real winter, and too early for starting seeds indoors, but in a couple weeks we can start onions and leeks.  Then, by the first week of March, I'll plant peppers and artichokes.  And before you know it, spring will be upon us, with snowdrops and crocuses.  I can barely wait."  Henry's book is loaded with optimism and, of course, gardening is a most optimistic endeavor.
I know I approach this with a bias, but my favorite part of the book is really the cover.  It's a woodcut of Henry, squatted over his onions and working them with a CobraHead Weeder and Cultivator.  Woo Hoo!!  Thank you, Henry!