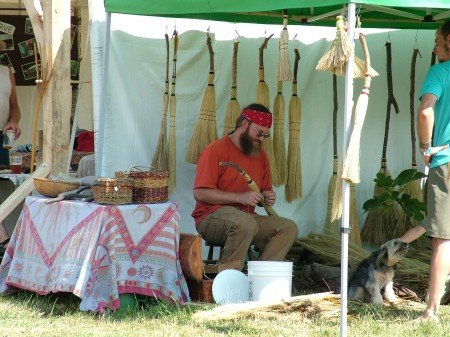 Judy and I did a one day show yesterday in La Farge, Wisconsin called the Kickapoo Country Fair.  The show is sponsored by the Organic Valley Farmers Cooperative which is headquartered in La Farge.    I've mentioned the show several times before.  Even though it's a small show, we like doing it because La Farge is located in the middle of some of Wisconsin's best scenery, the driftless area, which was not scrubbed flat by the last great glacier and so is much hillier than just about any place in the Midwest.
When you exhibit at trade shows that cater to gardeners and focus on sustainability you will frequently bump into  exhibitors doing the same shows as you.  The picture is of broom maker John Holzwart.   "Little John" Holzwart, actually.  We see John at quite a few shows.  John and his life partner and business partner, Linda Conroy, live in Sheboygan, Wisconsin.  Linda is an herbalist and a teacher of many types of home arts including soap making, cheese making, herbal medicines and more.
John began making brooms quite a few years ago after attending a broom making class at a festival teaching arts and crafts.  He told me after he made a few brooms he found his calling and this is now his life's work.  John and Linda operate as Moonwise Herbs.  You can see what John does here and you can see what Linda does here.
Tags: broom making, Moonwise Herbs