Okay, so it's summer, but summer doesn't rhyme with fling.
For the past four years, a group of garden bloggers has met up each spring or summer in a different part of the country. I've had the pleasure and privilege of attending all four Garden Bloggers Flings, and this year it was held in Seattle. The weather cooperated beautifully, and we were treated to sunny days every day except one. Over the course of four days, we visited a number of gardens, both public and private. Here are just a few of the photos I took.
The garden of Suzette and Jim Birrell was a great mix of edibles and ornamentals. You can tell that they really love color.
Just next door was Shelagh Tucker's garden, where I may or may not have snitched a raspberry from the backyard.
I didn't really get a great shot of Michelle and Christoper Epping's rather amazing garden, but I did get a few decent shots of the rather amazing view (actually, there are several views).
In the Olmstead brothers designed Dunn Gardens, I spied this funky old moss-covered shed. I like the tree branch "antlers".
During our trip to West Seattle, we visited the garden of one of Seattle Fling's organizers, Lorene Edwards Forkner.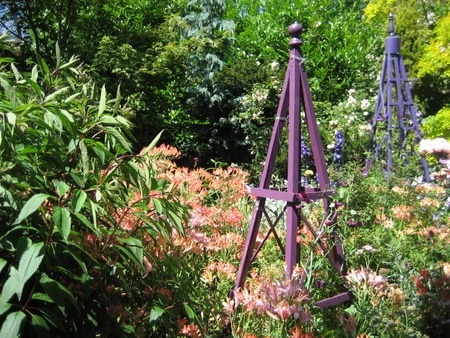 On the last day of the trip, we were treated to the weather one expects on a trip to the Pacific Northwest. There was a good bit of rain, and even a little lightning and thunder. I didn't really mind though, because that day we visited the Bloedel Reserve. The rain kept me from taking too many pictures, which is fine, because I'd rather just take a walk in the woods and enjoy myself. Besides, you don't get moss like this without a bit of rain.
In all, it was a fantastic trip. It was great to see old friends and make new ones. I can't wrap up without thanking the tireless organizers of the trip Lorene Edwards Forkner, Marty Wingate, Debra Prinzing, and Mary Ann Newcomer. Often on trips like this one, things don't always run as smoothly as they're supposed to, but if they didn't, I never noticed. I was truly impressed with how well everything was put together.
Next year's Fling will be in Asheville, NC, and I'm already excited!
Tags: Garden Bloggers Fling, Seattle