Sweet potatoes are back! We had another fantastic harvest which will keep us in these orange delights all year. They'll be making their way into all sorts of soups, stews, roasts, stir fries, curries and who knows what else?
Make a double batch of this chili and have enough left for an easy meal the next day. Disguise that extra chili inside some great tortillas, add a little sauce and some cheese and a different meal is born.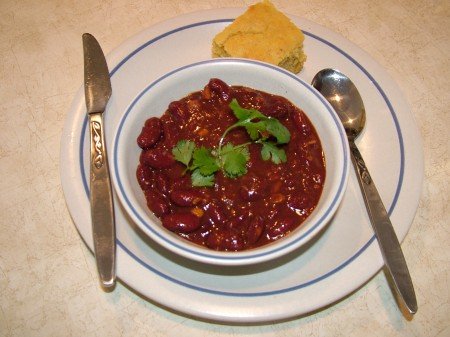 Sweet Potato Chili recipe
2 cups dry kidney beans, soaked for at least 4 hours or overnight
2 T. olive or canola oil
1 cup chopped onions
½ cup chopped green or red peppers
4 cloves garlic finely chopped
1 cup chopped sweet potato, ¼" dice
1 cup chopped tomatoes or sauce
¼ cup chopped cilantro stems
2 T. chile powder
1 T. cumin
1 tsp. oregano
1 T. vegetable bouillon or to taste
1-2 T. tamari
1 dried hot pepper, pierced with a fork in several spots
salt & pepper to taste
cilantro leaves for garnish
Cover kidney beans with water to about 1" above beans. Bring to boil and simmer for 1 hour or pressure cook for about 15 minutes, letting pressure drop naturally. Meanwhile prepare the rest of the ingredients.
Sauté onions, peppers and garlic for a few minutes in the oil. Add the dried spices and stir constantly so as not to burn – about 2 minutes. Then add tomatoes, bouillon and tamari and simmer for about 5 or 10 minutes. Add to beans after the 1st hour of cooking along with the dried pepper. Adjust the liquid to your liking, thin or thick chili. It will thicken some after cooking. Simmer for at least an hour or two – or pressure cook for about 15-20 minutes – let pressure drop naturally. Check to see if done to your liking and adjust the seasons. Serve with a garnish of cilantro leaves and your favorite cornbread.
If you haven't eaten all the chili make the leftovers into enchiladas. Or if you want to make sure you have some left double the recipe in the first place.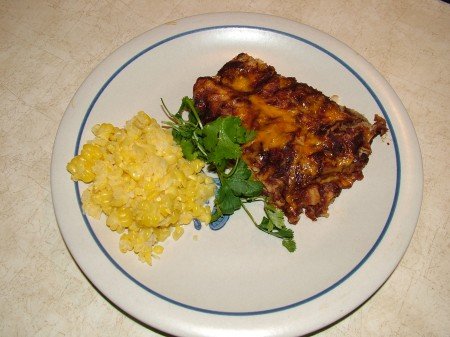 Sweet Potato Chili Enchiladas
10-12 tortillas, corn or flour
3 cups chili solids
2-3 cups strained chili juice
2 cups shredded cheese, sharp cheddar, Monterey Jack, or Mexican white cheese
Salsa, optional
Sour cream, optional
Warm the chili just enough to thin the juice and drain it through a colander to separate out the solids. Here's where you can play with the recipe. For about 10-12 tortillas you need about 3 cups filling, 2 T. for each tortilla + 1 T. shredded cheese. If you don't have quite enough filling add some corn or avocadoes or be creative – maybe you have some leftover rice that would be a good addition. If you don't have enough sauce add some salsa or sour cream.
In order to easily roll up the enchiladas without tearing or breaking them dip each tortilla in the slightly warmed sauce, drain & add the 2 T. filling & 1 T. shredded cheese, roll up and place in a greased casserole dish. Continue until all tortillas are prepared, pour remaining sauce over enchiladas making sure they're all covered evenly. Sprinkle remaining cheese over the top and bake at 350 degrees for 20-25 minutes until heated through. Serve with a green salad and some garden corn.