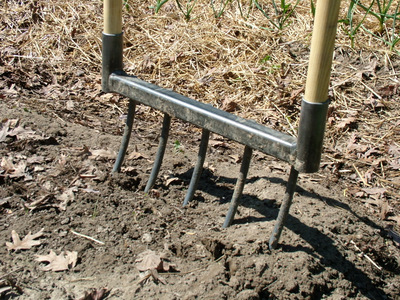 In December, George Zens, the publisher of Sustainable Times, a Madison area monthly newspaper dedicated to ecologically intelligent living, asked me if I knew Larry Cooper, and his Gulland Broadfork. George said Larry was making really good forks in Black Earth, a town just west of Madison, and was advertising in Sustainable Times. I did not know Larry, but I sent him an e-mail to introduce myself. Larry responded, and with our mutual interest in tools, gardening, sustainability, and beer, we have become friends. I ordered two forks from Larry, one for me and one for Geoff.
Larry delivered my Gulland Broadfork to me on Saturday, while I was doing a one day tradeshow in downtown Madison called Isthmus Green Day. The show was over at five and we were home before seven. I had the fork in the ground shortly after seven and used it to work up one of my hardest (clayeyest) beds to prep it for a planting of transplanted strawberries.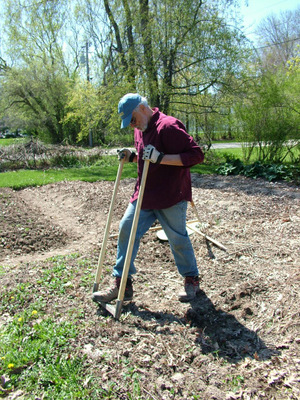 On Sunday I worked up two more beds. The first bed held potatoes last year and the soil was already quite soft. The other was a four year old deteriorated strawberry bed that was more dandelion and quack grass than berries. In all instances Larry's fork was the best tool I had ever used for breaking soil. I unequivocally endorse this tool as not good, but great, as close to perfect as a tool can be.
I've had some previous experience with broadforks. I bought one in 1992 from Smith and Hawkin when they still seemed to be trying to sell useful items for gardeners. The fork was poorly constructed however, and I broke a tine. Smith and Hawkin sent me a new head, but I bent a tine immediately and gave up on the tool. It was not well made and not very effective. Since then, I've been using a smaller broadfork called a Biofork, made by the Swiss tool company Glaser. It does not have the U-bar handles of traditional broadforks but has a single T-handle. It's light, well made, and reasonably effective, but I don't see myself using it much anymore. I'm quite sure I now have the best tool for the job.
Larry's tool is hand crafted. He's a professional blacksmith and artist, with years of experience making metal art. He did a lot of research in perfecting his design. Broadforks have been around for several centuries, and there are good ones and not so useful ones out there. The Gulland fork uses curved tines that work their own way into the ground. The technique is quite simple. You position the tines where you want them, push the two handles far out in front of you so the ends of the tines are close to vertical, step on the crossbar to give the tool some downward thrust and rock handles back and forth, (kind of like rowing a boat). The curved tines want to dig into the soil and you need to apply very little downward foot pressure to have the fork work.
The tool weighs just over fourteen pounds.  The action used to break soil requires you only to barely lift the tool out of the ground after you've pushed it in, drag it back towards you to re-position the tines and repeat the motion. It is not excessively hard work, and much easier than trying to do the same thing with a garden fork that only weighs five pounds.
While Larry specifically states that a broadfork is not intended to clean out virgin soil and that a mattock or power tiller might make more sense for such jobs, it is a tough tool. If you use common sense, you will know if you are working it too hard. The handles have a lot of flex. You can see and feel when you are getting more resistance than might be wise to continue.
I would not be afraid to try it in much tougher conditions than I have so far, but I would certainly take small bites and not over extend the tool, or myself. But since my beds are, for the most part, defined and in constant use, the Gulland fork will mostly be used to aerate the soil of my existing garden. I know I have a tool that I will treasure for years and it should well outlast me.
Thanks, Larry.