It's recipe time for the CobraHead Newsletter. For the last two months I had instructions not to use sweet potatoes or any potato in my recipe. But this time I snuck my proposal in before anyone could say anything. I don't think they really minded though – these latkes are delicious. I'll try to pace myself on the use of sweet potato recipes but we still have over 30 pounds left and they don't sprout nearly as fast as the white spuds.
2 pounds sweet potatoes, peeled and shredded
1 cup minced onions
1 tsp. salt
3 eggs, beaten
½ rounded cup of flour
freshly ground pepper to taste
Toppings: Yogurt, lime wedges, cilantro & minced Serrano peppers, if desired.
Mix the latkes in a very large bowl. Stir together the sweet potato shreds, onions, salt, pepper and eggs. Mix in the flour.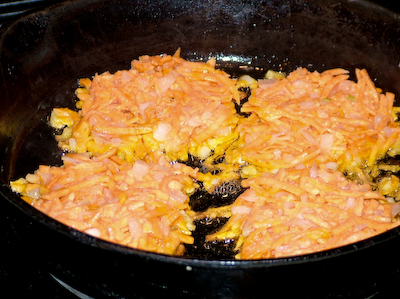 Frying Latkes
Heat oil in medium hot frying pan – cast iron works well. Spoon about 1/3 cup mixture for each latke into hot pan and roundly shape and flatten. Fry 3-4 minutes on first side and 3 minutes on reverse until they are golden brown. Watch your subsequent latke fryings that they don't get too brown. The sweet potatoes leave carmelized bits in the pan and blacken easier in later fryings using the same oil.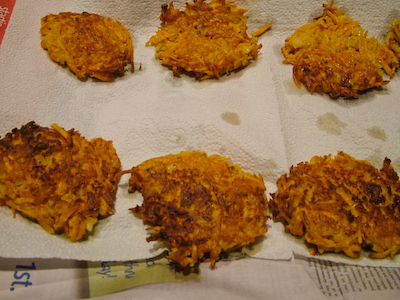 Latkes Cooling
Serve with yogurt, lime wedges and minced serranos. Garnish with cilantro.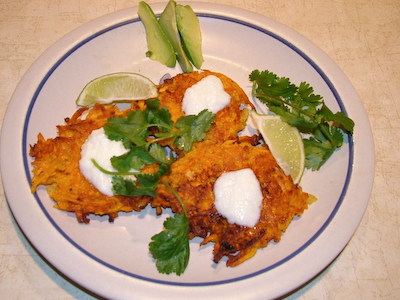 Serving Suggestion
The original recipe came from 'Vegetarian Planet' by Didi Emmons. I've changed it slightly to suit our tastes but her book is jam-packed full of innovative and tasty vegetarian recipes.
Uh-oh! the secret is out! I have enjoyed these once or twice from Geoff's kitchen, as well as sweet potato quesadillas!
Keep the recipes coming!!
I love sweet potatoes, but do no more than bake them. So, your ideas and recipes are much appreciated.
I love your newsletter….I have been saving your receipes…thanks…I also love the cobra head tool..
I thought I lost one but after I ordered another I found it but it worked out great…now I have
one at home and one up the lake….I am totally lost without my cobra head…don't even use any
other tool in my gardens….except for the tiller in the spring…
#
Posted By Jean | 3/29/10 8:21 AM