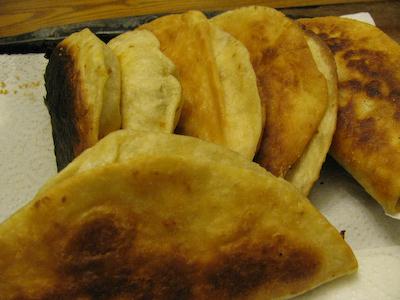 I love it when the larder is full of sweet potatoes! We harvested 76 pounds this year. Not bad for 20 home started plants in a Wisconsin garden.
There is nothing like a plain baked or roasted sweet potato slathered in butter. The other night I roasted small chunks of sweet potato mixed with Rose Finn Apple fingerling potatoes and cabbage wedges all tossed with olive oil mixed with crushed garlic, salt and pepper. After 45 minutes in a 400 degree oven the sweet potatoes were caramelized, the potatoes crispy on the outside & the cabbage starting to brown. It needed nothing else.
One of our favorite ways to fix these nutrition-packed gems is in a savory dish – Mexican style sweet potato quesadillas. We were served these by a friend about twelve or so years ago and they have been a family favorite ever since. There are lots of recipes for these but the one we like came from 'Moosewood Restaurant Cooks at Home – Fast and Easy Recipes for any Day' by Moosewood Collective.
Usually after making the same meal several times over the recipe evolves into your own with changes here and there. While we have changed the type of cheese (pepper jack comes to mind) and changed the type of tortillas (corn, whole wheat or ???) or baked instead of fried them, we have determined that the original version is the one we like best. We have found an excellent organic white flour tortilla with no hydrogenated fat at Whole Foods. When fried in the hot oil the baking powder in these tortillas causes them to puff up. The secret here is to make sure the oil is hot before you start, otherwise the tortillas just soak up the oil. If you're intrigued give the following recipe a try. Don't be afraid to experiment, you may come up with your own winner!
• 1 1/2 cups finely chopped onions
• 2 garlic cloves, minced
• 3 tablespoons vegetable oil
• 4 cups grated peeled sweet potatoes
• 1/2 teaspoon dried oregano
• 1 teaspoon chili powder
• 2 teaspoons ground cumin
• 1-2 pinch cayenne
• salt and pepper
• 1 cup shredded sharp cheddar cheese
• 8 (8 inch) flour tortillas
• Salsa
• Sour cream
Directions:
In a large skillet, heat vegetable oil. Sauté onions and garlic until the onions are transparent. Add in the sweet potatoes, oregano, chili powder, cumin, and cayenne. Cover and cook for 10 minutes, stirring frequently to prevent sticking.
When the sweet potatoes are tender, remove the filling from the heat and add salt and pepper; stirring to mix.
Evenly spread the sweet potato mixture onto the tortillas; sprinkle 2 tablespoons of cheese onto each tortilla. Fold tortilla in half over filling.
Using a clean skillet add a little oil; heat on medium high heat. Place the quesadillas in the hot oil and cook on each side for 2 minutes, until cheese is melted and the filling is hot. Add more oil to skillet as needed and cook in batches.
Serve with salsa and sour cream.