We continue to do a lot of trade shows, trying get our tools known by the gardening public. We've found that small shows can be more attractive than large ones, especially if the ratio of hands-on gardeners to the overall attendance is good. Big shows attended by the general populace are not for us. County fairs, street fairs, and music festivals are now on our "do not even think about it" list.
We do well at energy shows that that have an overall sustainable living slant and at small, food-oriented shows where products produced by small growers (usually organic) are featured. What we are finding is that gardeners attend these shows and if there are gardeners present, we can sell CobraHeads.
Last weekend we did the Illinois Renewable Energy Association Fair in Oregon, Illinois.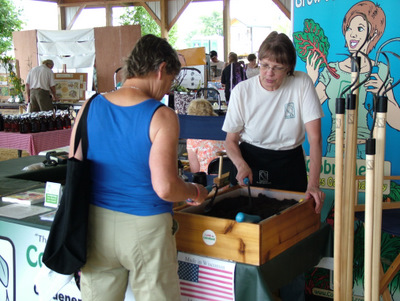 Here is Judy doing a demonstration. This was the 8th IREA and our second. It is patterned after the very large Midwest Renewable Energy Association show in Wisconsin which we also do. The show draws about 7,000 people over two days.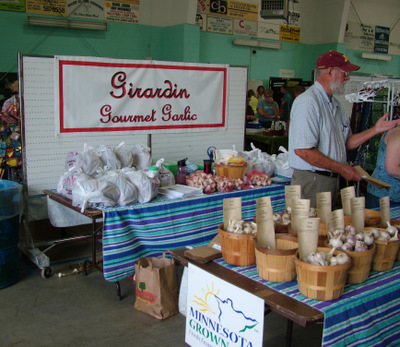 The Minnesota Garlic Festival, now in Hutchinson, Minnesota had its fourth show this weekend. It was our second. Pictured is Joel Girardin, a long time garlic grower at his booth.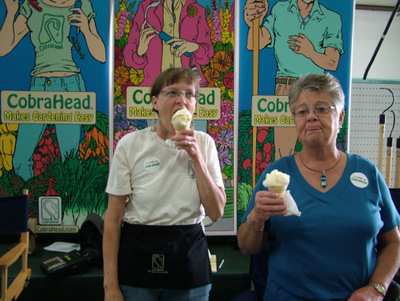 Here are Judy and her sister Diana eating garlic ice cream. It's actually pretty good! So are the garlic chocolate chip cookies and all the garlic-laced food sold at "The Great Scape Café". The one day garlic show draws just over 2,000 people, and for such a small show, we sell enough product to make it worth our while. Again, its because so many of the people attending are gardeners.