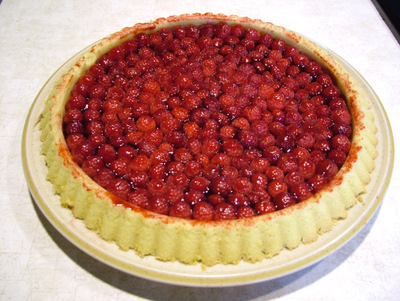 Last night we were invited to a potluck. I don't usually bring desserts because I rarely make them at home – and I'm not one that can live on just desserts. Besides, who has time to bake?
But how could I not do something with the raspberries that we're lucky enough to have (even if I do have to don a mosquito net over my head to pick them)? Two quarts don't go very far at a gathering but I happened to remember the little used Maryann pan that I purchased over twenty years ago when we first moved to the Madison, Wisconsin area. I decided to go for it and hoped that the dessert would turn out.
Obsttorte is a German cake that is made with a pre-baked base then topped with fresh or canned fruit very similar to a fruit tart. The recipe I have makes a crepe-like sponge cake. After working 'very hard' to get the baked cake out of the pan in one piece I drizzled the indents of the dished top with Grand Marnier and raspberry Grand Marnier glaze then placed the raspberries in circles (no guarantees on the concentric part) and drizzled the rest of the glaze on top. With a little vanilla yogurt we're good to go. Delightful!