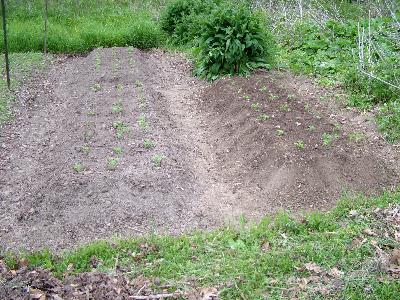 Other than the perennial asparagus bed and a bed that was fallow last year but cleaned out for Anneliese's gardening effort two years ago, I haven't gardened any of the north beds since 2003. Besides the asparagus, I have a stand of perennial sunchokes and my compost pile, but the north garden is mostly in disrepair and has become infested with burdock, tansy, sumac and grass.
I needed more space this year so I cleaned out the double bed that Anneliese had used in 2007 and cleaned up a fallow bed east of that that was idle for five years. The north beds were always too big. When I planned the garden in 1986, I thought bigger was better, so I made the beds four feet across the top versus the three foot top widths recommended by John Jeavons in the raised bed reference "How to Grow More Vegetables". Four foot tops are too wide to easily reach more than half way across.
As I work at re-starting gardening in the north, I'm re-shaping the beds down to three foot top widths. You may not be able to tell in the picture but the depth of the beds becomes really deep as I use the extra soil from the wider beds.
I planted 72 tomatoes (actually 70 tomatoes and 2 tomatillos) in the three beds shown here. The bed on the right butts up against a large comfrey plant, one of about a half dozen and spreading that have done well with no care whatever, and which I use as compost plants.
I hope to hack away at more of the neglect over the summer and re-establish several more beds. I would like to totally eradicate the sumac over time. The rest of the weeds are just part of the system and I'm getting to the point where I can somewhat control them. We shall see as the summer progresses if we can expand our foothold in the north.