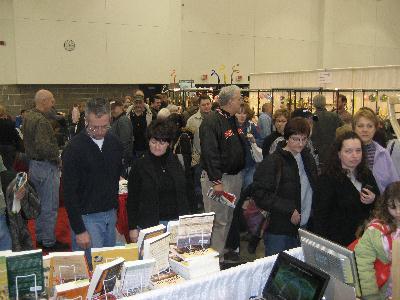 This weekend saw three-fourths of the CobraHead Team working the Madison Garden Expo in our home city. The event is sponsored by Wisconsin Public Television and I can say with certainty, as we've now got over two hundred trade shows behind us, this is one of the better garden shows in the United States.
We learned early into our launch of CobraHead that trade shows can provide exceptional exposure for a small start-up company. Shows are possibly the best way to get a product known to the world when you don't have the unlimited marketing and advertising budgets of the big corporations. The nice thing about consumer trade shows is that you have a chance to make some money while you are telling the world who you are.
If we were as well known throughout the U.S. as we are in Madison, CobraHead would be pretty famous. This is our sixth year doing this show and we have developed a following. It's pretty easy to close a sale when someone walks by and says to the person thinking of buying, "I bought that tool last year and it is the best garden tool I've ever owned." Unsolicited testimonials are indeed the best advertising. I hope Madison is a bell weather for the garden show season, because the show was crowded, as you can see in the first picture, and folks were spending money.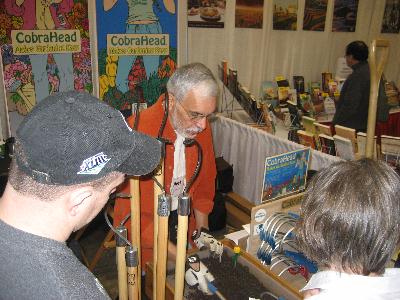 Here I am showing people our garden tools. We almost always have a box of soil at the shows, so people can see how the product works in the real stuff. In Wisconsin in February, people will stick their hands into the box of dirt just to re-connect with the earth, which outside is frozen and covered with snow and ice. We call it our zen box.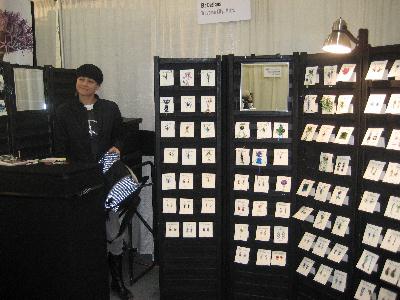 This is our friend Renate Favour of Etc. Designs, a Michigan lady we first met at the International Master Gardeners Conference Trade Show at Covington, Kentucky in 2004. Renate is an artist who crafts exceptional jewelry of insects and other whimsical creatures. I was actually quite jealous of Renate when I first met her. The ladies at the Master Gardener Conference were spending all their money at her booth "buying bugs" when they should have been buying my slick garden tool. Renate's art is excellent, however, and I know now that the ladies were not wasting their money. We'll be doing the IMGC show this year in Las Vegas.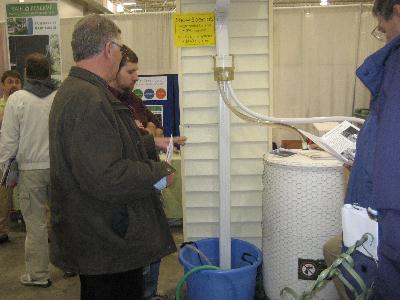 Here is Bryant Moroder of Sustain Dane, a local non-profit whose RainReserve® Rain Barrel Program is a project which we hope to partner up with.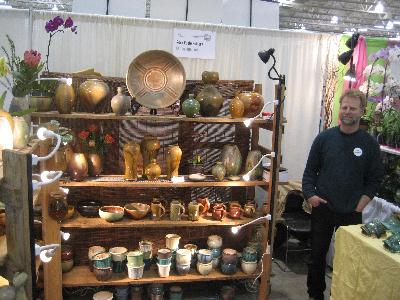 This is our good friend Michael Schael, a potter here in Cambridge. His business is Rock Eagle Pottery. Michael is an exceptional potter and a really nice person.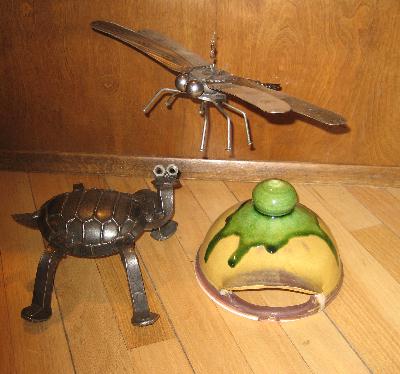 Lastly, a picture of three objets d'art acquired at the show. The turtle is a birthday present to Anneliese from Kirk at Kicking Y Creations of Ripon, Wisconsin. The dragonfly, a purchase by Judy from the same vendors, and the toad abode a purchase by me from my friend Michael.