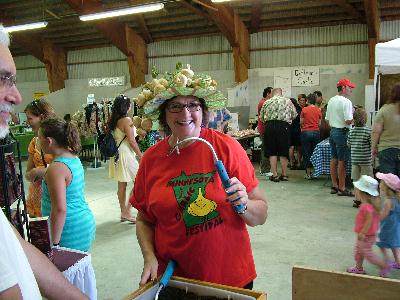 That's Irene Bender, the event coordinator for the Minnesota Garlic Festival , held last Saturday at the Wright County Fairgrounds in Howard Lake, Minnesota. Nice Hat!
The garlic festival is a little show featuring about a dozen small farmers offering over 100 varieties of garlic. Garlic was for sale, but so were other homegrown foods and locally produced goods. Garlic flavored food was in abundance including garlic brats, garlic potatoes, pickled garlic, and more, with garlic flavoring many of the food items for sale. There was even garlic ice cream and garlic chocolate chip cookies for desert.
Workshops included the topics of growing garlic, cooking with garlic, gardening in general, and growing, cooking and preserving other foods. Additionally, music by local bands, singers, and drummers kept the party mood going the entire day. The event was very family oriented with things of interest for everyone.
Lots of local chefs volunteered to help at the Great Scape Cafe, which offered up an excellent menu of mostly garlic flavored dishes that would rate four stars from the most discerning foodie.
I purchased about six different new garlic types to try in my garden this fall. I'm especially looking forward to trying a huge variety called Armenian that the grower said was his favorite.
The event was good for CobraHead. We sold well and met some very nice people who embraced both good food and sustainability as it applies to farming and gardening.
We can highly recommend this little festival as a great way to spend a day.