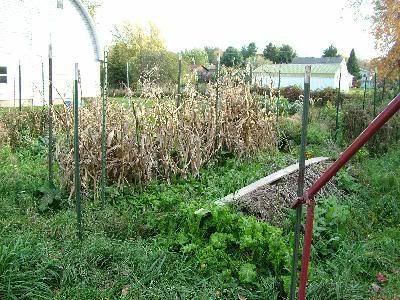 T-posts are everywhere in my garden. They are indispensable fixtures in the system I've developed. They hold up my tomato cages. I make a little corral with T-posts and jute to keep the corn from blowing over. In the north beds where I have a permanent planting of asparagus, a T-post corral keeps the fronds from falling into the paths. I trellis melons and peas with T-posts and fencing.
For the last three years I've put a fence around the entire south garden to keep the deer out. When we had dogs outside, deer were not an issue, but without a dog on patrol, Bambi gets brash. The fence is 6 1/2 feet tall and it works.
I use 90 inch-posts for everything. Next season I'm thinking of getting some shorter posts for the tomato beds, The 90 inch posts are overkill there. Then again, that would be another inventory item, so maybe not. I get my posts from a local (Madison, WI) store called Blain's Farm & Fleet. They sell good quality posts, unlike some of the flimsier ones I've seen at their local big box competitors. Good T-posts are close to indestructible and cost almost no more than the cheap ones. It irritates me that a store would even sell inferior grades.
Yesterday, I finished taking down the fence around the south garden. A T-post puller makes removing the posts easy work. As you might be able to see in the picture, the garden is a weedy mess. I've spent too much time on the road and galinsoga, foxtail, dandelion, tansy, chickweed and a dozen other weeds have carpeted much of wherever there was not a crop growing.
I've started scuffling off the paths with my CobraHead Long Handle. I'm pretty sure I can get back on top of the weed situation during the month of November. Last year I had my garden close to weed free and covered under a mulch of leaves by the first week of December. That will be a goal for the coming month.