Last April, my friend Michael Ball asked me if I'd be interested in helping him split the work of starting a crop of shiitake mushrooms. He supplied the cut red oak logs from the woods on his farm, I bought the mushroom spawn and we shared the work of drilling and plugging the logs with the spawn. I ended up with about fifteen logs each with about four dozen plugs or more and each plug a potential mushroom.
Typically, the mushrooms appear the following spring, but because of the exceedingly wet period we had a few weeks back, we're getting mushrooms now. The first harvest was yesterday, about a half pound.
Judy fried them up with olive oil, sesame oil, garlic, and cubed tofu. They were succulent and meaty, perfectly delicious. The mushroom flavor got sucked up by the tofu, so every morsel had this great shiitake taste.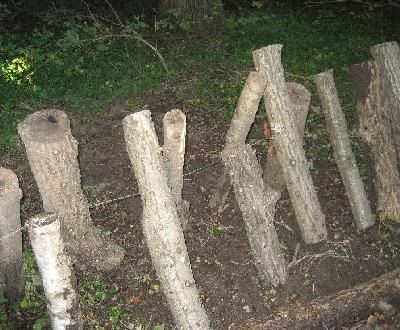 Until yesterday, the logs were on the ground, but after fruiting starts, they need to be stood upright so all the plugs have a place to put out their growth.
I got my mushroom spawn and equipment from Field & Forest Products Inc., Peshtigo, Wisconsin 54157. 1-800-792-6220. www.fieldforest.net. An excellent and highly recommended company.